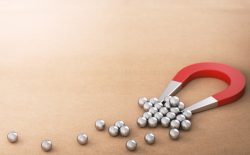 In order to be successful, businesses need to continuously increase awareness of their brand and bring in new customers. It is essential that companies understand lead generation and how to use it to most effectively move prospective customers through the sales funnel and turn them into paying customers.
What is lead generation?
A lead refers to a potential customer who has shown interest in a company's products or services. Finding leads is necessary to a company's success, so this is where lead generation comes into play. Lead generation is the process by which companies attract prospective customers to their product or service with the intention of turning their interest into sales. Lead generation is an important part of a successful business model and is a valuable way to generate more sales. There are many different ways that companies can effectively and efficiently attract customers using lead generation. 
How to do lead generation
Cold calling, where companies make unsolicited calls upon as many people as possible, used to be one of the most effective forms of lead generation, but thanks to the internet and social media, those annoying sales calls and door-to-door salesmen that disrupt dinner aren't a necessity anymore. Sales calls are no longer a highly beneficial tactic simply because fewer people are answering their phones for businesses or unknown numbers – a whopping 97% of respondents, in fact, according to a Zipwhip report.  More businesses are incorporating a variety of lead generation strategies aside from cold calling that attract customers more organically. Rather than trying to force sales by contacting the multitudes, many types of lead generation aim to target people who have an actual need or interest that would be fulfilled by a company's products or services. In order to do this, companies must identify who their target audience is then determine the best offers or methods for drawing their interest. They also need to have a system in place to collect data and contact information on their leads so that they can follow up with prospects and turn them into paying customers.
What is the lead generation process?
The lead generation process can look a little different depending on a company's product or service offerings, but there are some general steps that businesses can take to generate leads and convert them to customers.
Identify and research your target audience:

This first step is essential because if you don't take the time to understand the people who will be interested in and benefit most from your product or service then you're not going to be as effective at drawing them in. It is important to determine your target market and understand its demographics so that you can create appealing and helpful content that will attract a higher number of leads.
Create engaging content:

Content is one of the most valuable

lead generation tools

. It needs to be alluring enough to not only catch people's interest but also to entice them to share their contact information in exchange for the opportunity to give your product or service a chance. Content needs to be shareable and can take a variety of forms such as blog posts, surveys, pictures, social media, ebooks, trials, demos, contests, email subscriptions, and more.
Promote your content:

In order to reach as many prospects as possible, it is important to share your content across various channels. Your business website, blogs, and social media sites like Facebook, Instagram, X (formerly known as Twitter), LinkedIn, YouTube, and Pinterest are great places to share your content. This is another area where knowing your audience is beneficial because you should promote your content in the places where your prospective customers are most likely to be spending their time.

Evaluate and nurture viable leads:

Not all leads are created equal, so businesses should determine which ones are going to be the most valuable and focus on building a long-term relationship with them. While the cost varies depending on the industry, HubSpot found that the average cost per lead across all industries is almost $200. If you are going to spend the money for lead generation, you also need to spend the time to identify the customers who have the most potential to increase sales and profits and foster a relationship with them. Building these relationships and providing them with great customer service increases their satisfaction, which results in greater customer retention and brand loyalty while also increasing referral rates.
Use these steps to guide you, but remember to continuously evaluate your lead generation process to make sure that it's working for your business. Determine what is successful in generating leads and what needs to be tweaked to ensure that you aren't wasting your company's time and resources on leads that don't go anywhere.
How to generate leads in sales
A sales qualified lead (SQL) refers to a person or business who has shown an express interest in becoming a paying customer. Using some of these strategies can generate more leads in sales:
Continue to nurture relationships with current and past customers.

Follow up with cold leads every so often to see if anything has changed. 

Ask existing customers for referrals.

Participate in networking – both online and at in-person events.

Use blogs, articles, and videos to become a trusted source of knowledge and information.

Host workshops or webinars that allow you to share your expertise while interacting with potential leads.

Utilize social media networks to attract and connect with high quality leads.

Use chat technology on your website to interact with and inform prospective sales leads.

Sponsor an event, team, or charity drive as a way to increase your exposure and generate local sales leads.
Be creative with the ways you generate sales leads. Find new or different approaches that attract customers to your company and entice them to learn more about your products or services.
What is lead generation in marketing?
Lead generation in marketing is a way to personalize your company's marketing and advertising to align with the needs and interests of potential customers. Rather than trying to appeal to the masses, it focuses on identifying those who will actually benefit from your business and what it has to offer. There are an abundance of ways to use lead generation in marketing, but the process can be overwhelming for companies who don't know where to start, what type to use, or need help with moving leads through the sales funnel. Lead generation companies like Callbox, CIENCE, LeadGeneration, and Salespanel can help guide you through the process and turn leads into profits. There are also a number of lead generation apps and software tools such as LinkedIn Sales Navigator, Marketo Engage, Microsoft Dynamics 365, and Airtable. Research lead generation agencies and tools to determine which will be most beneficial for your company's needs.
How to generate leads in digital marketing
Digital marketing has had a huge impact on lead generation thanks to its ability to directly target people who have a need or an interest that can be fulfilled by your company, which also increases the quality of the lead. Some ways to generate leads in digital marketing are:
Content marketing:

Creating valuable, engaging content – such as blog posts, videos, articles, infographics, surveys and more – is one of the best ways to generate leads. Make it shareable and promote it across a variety of channels.
Social media marketing:

Establish a strong social media presence, especially on platforms where your target audience is most active. Social media is a great place to share content and promote your brand.
Search Engine Optimization (SEO):

Optimize your content so that search engines rank your website higher and direct more traffic to it when they are searching for information related to your products or services.
Email marketing:

Increase email subscribers by offering relevant information, updates, newsletters, and offers that will nurture leads and promote your brand's visibility.

Pay-Per-Click (PPC) advertising:

Google Ads and various social media platforms allow you to use targeted ad campaigns to increase traffic to your website. You simply pay a fee based on the number of clicks.
What are the 3 approaches of lead generation?
There are three types of lead generation approaches that businesses can use: outbound, inbound, and referral. Many companies find that using a combination of these approaches is the most effective way to reach a wide variety of potential customers.
Outbound marketing:

Outbound marketing refers to the more traditional methods of

lead generation techniques

where companies proactively and directly reach out to as many people as possible, even if they haven't expressed any initial interest in the company or what it has to offer. Cold calling, either by phone or through door-to-door sales; advertising using billboards, TV or radio commercials, print ads in newspapers and magazines, etc.; email campaigns; and direct postal mail are all

lead generation examples

of outbound marketing methods. When done correctly, it can be a useful marketing strategy.
Inbound marketing:

Inbound marketing offers a more direct and personal approach because it focuses on creating and promoting content that will attract individuals who will specifically benefit from a company's products or services. It uses

lead generation strategies

like social media marketing, SEO, blogs, infographics, videos, and PPC. Inbound marketing tends to be more effective than outbound because its aim is to identify those who have the most to gain from using a company's products or services and filter them through a sales funnel in order to nurture and build a relationship with them.

Referral marketing:

This approach relies on existing customers to generate or refer potential leads through word-of-mouth recommendations, referral programs, or affiliate marketing. This approach is advantageous because the referral is typically coming from someone whose opinion is valued, thus resulting in more highly qualified leads.
Why lead generation is important for business
Lead generation is important for companies because it is an effective way for them to generate more sales and grow their business. It allows companies to target people who are actually interested in what they have to offer while increasing awareness of their brand. When done correctly, it gives them the opportunity to collect data on both potential and existing customers in order to generate a greater number of leads and tailor their marketing and sales strategies to best meet the needs of their customers. Lead generation can also result in increased brand loyalty because it is customer-centric, meaning that the customer comes first and that their needs and desires are at the core of the decisions being made.
What is B2B lead generation?
Business-to-business (B2B) lead generation is the process of identifying and attracting other businesses, rather than individual customers, to your company's products or services. Many of the same strategies used with business-to-consumer (B2C) lead generation work with B2B as well. Some B2B lead generation examples include:
Social media:

LinkedIn, Facebook, TikTok, YouTube and Instagram are all popular social media channels that have a lot of potential for lead generation.

PPC:

Using paid advertising on the aforementioned platforms, as well as on Google, can be a powerful tool when used correctly.

Content marketing:

Creating valuable, high-quality content in the form of blog posts and articles, videos, and podcasts is a highly beneficial way to show that your business is an expert in your field and improve SEO.

Referral programs:

Turning your satisfied clients into spokespeople for your business is a great

lead generation technique

.

Live events and workshops:

Build relationships and increase the quality of leads by hosting in-person opportunities to share your expertise and increase brand awareness.

Free lead magnets:

People love free stuff, so offer free trials, templates, ebooks, etc., in exchange for contact information. This is a great way to get businesses to experience what you have to offer.

Email marketing:

Send regular, engaging emails that give people information about your business. The emails should provide value as well as have an enticing call-to-action (CTA) that prompts an immediate response or sale.
What is CRM lead generation?
Customer relationship management (CRM) lead generation is the process of using CRM software to identify, track, and manage potential leads as they move through the sales funnel. It allows companies to collect data on leads and personalize the experience in order to build a better relationship with customers. Since Hubspot found that organizations generate an average of 1,877 leads per month, it is imperative that they have a way to manage that information to best serve their company. Using CRM lead generation helps to automate data collection and gives all relevant personnel access to it.
Conclusion
Understanding and incorporating lead generation should be a top priority for your company's marketing and sales teams. It is an effective way to drive sales by increasing your brand awareness and is imperative to the success of your company.